ALTERNATIVE TO CARDBOARD / LINER BAG / AGRO FIBER
   Absorbent liner for containers which is impregnated with an anti-fungal covering.
Container walls and floors are a major source of concern when shipping goods.
   It is not possible to find conditions that meet the required standards for cleanliness and humidity levels. Moisture can build up on the sides of the container and damage the cargo. The innovative Absorbent Vdry Liner has been developed to address these challenges.
Impermeable materials combine absorbent properties with an anti-fungal covering to prevent product contamination. This means that the goods remain clean and dry from the moment of loading until they arrive at their destination.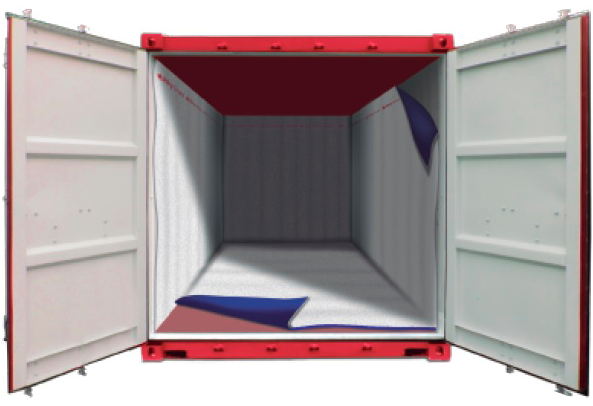 MOLD FREE
Treated with medical-grade mold inhibitor for clean and contaminant free conditions

MOISTURE RETENTION
Cargo remains dry from condensation on the walls, using the high-quality impermeable film

ENVIRONMENTALLY FRIENDLY
Safe for the environment, non-toxic

ADJUSTABLE HEIGHT
Can be used to cover any part of the container walls

FASTER INSTALLATION
Strong hooks help to securely attach the liner to the stationary rings at the top of the container

EXTRA RESISTANT
High-quality materials mean Vdry Liner will not tear up at any stage of supply chain, unlike paper or cardboard
VDRY LINER

20`Container

40`Container

Moisture absorption
Model 1: 13.9 liters
Model 2: 16.0 liters
25 liters
Size
Model 1: walls 15m * 2.5m, floor: 6.2m * 2.4m
Model 1: with additional door protection
Walls: 27m * 2.5m
Floor: 12.2m * 2.4m
Material density:
Walls – 40gsm
Floor – first layer 30gsm + second layer, polypropylene film 20gsm
Keeps cargo clean in contaminated conditions. Perfect replacement for (cardboard) cardboard backing.